Los ejercicios de redacción se aplican comúnmente en exámenes de certificación para evaluar el grado de dominio de esta habilidad y del inglés en general. Tal es el caso de los exámenes PET, IELTS y TOEFL.
Para lograr constar que se cuenta con un grado de conocimiento B1, se necesita aprobar la habilidad de escritura en estas pruebas.
Una persona que posee dicho nivel es capaz de realizar escritos de temas generales con expresiones básicas y de manera coherente.  Enseguida te mostraremos algunos ejemplos de redacciones en inglés B1 para las pruebas mencionadas anteriormente.
Redacción B1 en la prueba TOEFL
El examen TOEFL abarca una sección donde se solicita realizar una redacción en la cual se exponga de manera concisa nuestra opinión sobre determinado tema.
Dentro del texto, es importante incluir varios puntos tales como si nos encontramos a favor o en discrepancia y exponer claramente nuestro punto de vista.
De igual forma, brindar algunos ejemplos que lo apoyen y escribir una breve conclusión resaltando los aspectos más significativos de nuestro argumento.
Redacción B1 en la prueba IELTS
Al presentar el examen IELTS se solicita la redacción de dos textos. El primero de ellos consta de una extensión aproximada de 150 palabras. En él se debe explicar la información expuesta en un determinado gráfico.
El segundo texto abarca una extensión de 250 palabras. En él, se pide brindar nuestra opinión acerca de determinado problema o afirmación. Este es completamente similar al presentado en la prueba TOEFL
Redacción B1 en prueba PET
El examen PET se compone de dos apartados. El primero de ellos corresponde a la escritura de un correo electrónico. La segunda corresponde a la redacción de un breve y sencillo artículo o historia
Composición del test B1 Preliminary
Primera parte- Redacción de un email
En la primera parte, se debe escribir un correo electrónico informal dirigido a un colega o pariente a partir de una serie de anotaciones dadas.
Este debe ir redactado con una extensión de aproximadamente cien palabras. Sin embargo, no hay problema si se llegase a extender más de esta cantidad.
Segunda parte – Redacción de artículo o historia corta
En la segunda parte del test, se solicita la redacción ya sea de un breve artículo o de una pequeña historia. Sin importar cuál sea el texto que se decida escribir, debe contener una extensión mínima de 100 palabras.
En caso de decantarse por la escritura de un artículo, se deberá seguir las instrucciones dadas. Estas corresponden a un par de preguntas de un cierto tema. La tarea será plasmar una opinión propia sobre ese tema en específico.
En el caso de decidirse por la escritura de una historia, será un poco diferente. Esta deberá incluir al comienzo el enunciado que se otorga en las instrucciones, y la historia se irá desarrollando en torno a él.
Aunque puede llegar a darse el caso en el cual solamente se brinde únicamente el título de la historia. Por lo que el escrito deberá realizarse en base a este.
Ejemplos de redacciones en ingles B1
Ejemplo 1 -Test B1 preliminary: Mensaje de correo electrónico
Read this email form your English-speaking friend Sandy and the notes you have made:
Email
From: Sandy
Subject: Your visit!
Hi
I'm so excited that you're coming to stay with me for a week! (Note: Me too!)
On your first evening here, there's a rock concert in our town. Would you like to go to the concert or would you prefer us to relax at home? (Note: Say which I prefer)
Also, shall we go climbing in the mountains while you're here? (Note: No because…)
Let me know if you have any questions. (Note: Ask Sandy…)
See you soon.
Sandy
Write your email to Sandy using all the notes
Respuesta:
Hi Sandy,
Thanks a lot for writing back. I'm also really excited about visiting you!
On my firs evening, I'd like to relax at home. I will probably be very tires from the trip, so I need to rest and get ready for the other days. Is that okay?
As for climbing, I'm afraid I can't. I forgot to tell you, but I hurt my knee last week, so I can't do sport now.
How about visiting some art galleries in your town? If you want, we could go. You know I love art! What do you think?
Well, I have to go now, but please, let me know what you think.
Take care,
Luis
Ejemplo 2 – Test B1 preliminary: Redacción de artículo
You see this notice on an English-language website.
Articles wanted!
FILMS
What kind of films do you enjoy?
Do you prefer watching them at the cinema or at home? Why?
Write an article answering these questions and we will put it on our website!
Write your article.
Respuesta:
Thrillers are the best!
Watching films is one of my favourite hobbies. I try to watch a film or two every week. However, although I watch many films, I don't like all types of movies. My favourite ones are thrillers.
I love thrillers because the plot is usually awesome and you can never predict the ending.  Also, I think thriller actors and directors normally do a very good job!
The best place to watch a good movie is at the cinema. The screen is huge, the seats are comfortable and you can have popcorn! That's why I try to go to the cinema every weekend!
What about you? Do you like thrillers? What type of movies do you enjoy?
Ejemplo 3 – Test B1 preliminary: Redacción de historia
The Broken Train
Tim felt angry as he got off the train. The train had broken down and they had stopped in the middle of the countryside.
Everyone was getting of the train, speaking to each other. But Tim was tired and he didn't want to talk much. So he sat under a tree and decided to take a nap. Tim was sleeping when, without a warning, he heard the sound of a train moving. All of a sudden, Tim woke up and saw the train moving away. He shouted, "Stop the train, please!", but nobody heard him. And although he ran and ran, Tim couldn't reach the train.
In the end, he gave up running and called his parents, who picked him up a few hours later.
Ejemplo 4 – Test IELTS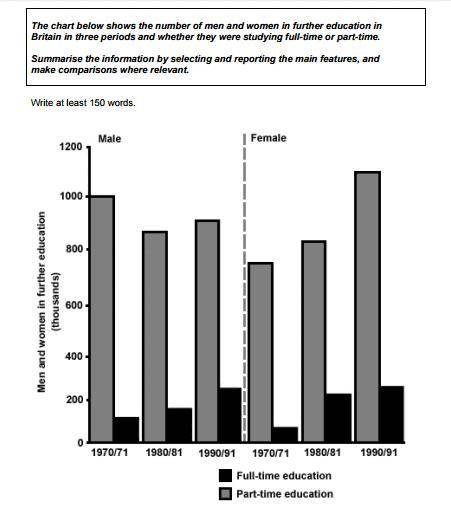 Respuesta:
This is a bar chart of the number of men and women in further education in Britain in three periods. In 1970 most of men were studying part-time but from 1980, studying part-time was deacreased and studying full-time was increased and in 1990, it was twice as many students as in 1970.
On the other hand, women studying full-time were increased and not only full-time, part-time also were increased. In 1990, studying full-time was three times as many students as in 1970. If compare men and women, as you see, in 1970, men were studying more than women full-time or part-time but it changed from 1980 and then in 1990 women were studying part-time more than men and studying full-time was same number, It shows you women has a high education now.
Ejemplo 5 – Redacción para test TOEFL
Question: Do you agree or disagree with the following statement?
A teacher's ability to relate well with students is more important than excellent knowledge of the subject being taught.
Use specific reasons and examples to support your answer.
Respuesta:
I disagree with the idea that the possessing the ability to relate well with student is more important than excellent knowledge of the subject being taught for a teacher. There are several reasons why I disagree with that idea.
First, teacher's job is to educate their student with their knowledge. The ability to relate well with their student is something a counselor should possess, not a teacher. That's why the board of education gives an award to a teacher with an excellent knowledge of the subject they teach. Teachers who can get along with their students but have no knowledge can be popular and be liked by his or her students, however I don't consider a teacher with no knowledge a good teacher.
Second, Students go to schools because they want to learn knowledge from their teachers not to get along with their teachers. I knew a math teacher who was well known among other mathematics teachers. Some students always complained how he never entertains his students which made many of his students to fall asleep. Nevertheless, all of his classes were all full even before the semester began because many students who were eager to learn already booked in. He won the Apples prize (it's given to a noticed teacher annually) a couple of times and that enabled students to firmly believe in this way of teaching.
Thirdly, teachers are responsible for conceding their knowledge to their next generation. Teachers already han an experience of getting advantaged education from college. Teachers should not let that previlege become useless and workless. We all learn because we want to become the better person that this world needs. Students will also eventually grow up to be influencing other people and teachers should volunteerily be their students' role models.
For conclusion, I think the most important quality a teacher must have is an excellent knowledge of the subject they teach, not an ability to relate well with their students.
Con estos ejemplos de redacciones en inglés B1 podrás prepararte mucho mejor para la acreditar la habilidad de redacción en la prueba que realices.
Referencias
Trucos Londres. (2019). Writing en el Nivel B1 de Inglés – Exámenes PET, IELTS y TOEFL. 19 de Junio de 2021, de Trucos Londres. Obtenido de: https://trucoslondres.com/aprender-ingles/nivel-b1/writing-b1/
KSE Academy. (2019). Writing B1 Preliminary (PET): Guía Completa y Ejemplos [Actualizado 2020]. 19 de Junio de 2021, de KSE Academy. Obtenido de: https://kseacademy.com/cambridge/b1-preliminary-pet/writing/